Temple Grandin
Submitted by Landon Bryce on Wed, 02/09/2011 - 13:48
Published in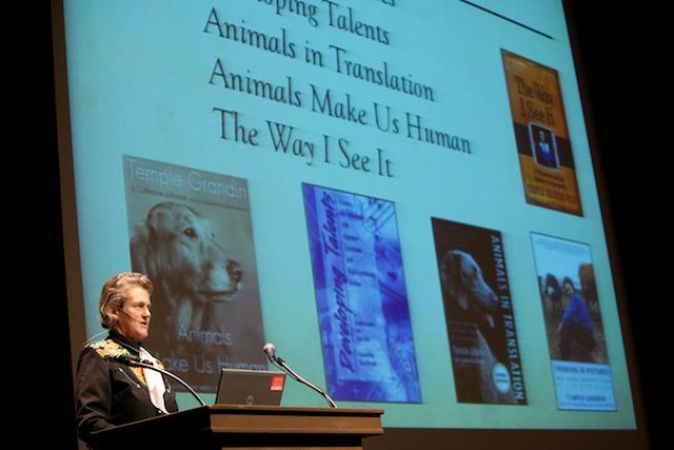 Temple Grandin speaks at UCLA (Photo by Tracey Landworth)
Dr. Grandin is selling out speaking engagements across the country. Vicky Goodman tells how the animal and autism expert contacted the woman who booked her into one gig at UCLA with this complaint:
"Stephanie, Temple Grandin, here. Why am I not booked in Royce Hall? You know, I CAN FILL ROYCE HALL!"

As Royce seats 1,800 people, we did not take Temple's advice seriously and continued with our plan to hold the event in UCLA's DeNeve Auditorium, which comfortably seats 400-plus guests. After all, Buzz Aldrin had been our speaker there, and he can certainly pack an auditorium with his astronaut star power!
Guess who was right?
---
Grandin opposes the elimination of hands-on classes from school curricula:
"I'm getting very concerned with schools that are taking out the hands-on classes because those are places where students can get introduced to things that turn into careers," she said. "Auto shop, art, welding — right now we have a shortage of certified machinists and welders. It's the quirky, nerdy kids that do those jobs. But if they're not exposed to them, how are they going to get interested in them?"
Submitted by Landon Bryce on Fri, 01/21/2011 - 17:34
Published in
Submitted by Landon Bryce on Mon, 01/17/2011 - 03:24
The 2011 Golden Globes offered another big night for work that featured characters on and near to the autism spectrum.

Here are the relevant winners:

Best drama: The Social Network

Best director/motion picture: David Fincher, The Social Network

Screenplay: Aaron Sorkin, The Social Network

Original score: Trent Reznor and Atticus Ross, The Social Network

Actor, comedy/musical series: Jim Parsons, The Big Bang Theory (CBS)

Actress, miniseries or TV movie: Claire Danes, Temple Grandin (HBO)

Temple Grandin on the red carpet.
Submitted by Landon Bryce on Sun, 01/02/2011 - 07:01
Published in
What do you think-- does Jim Parson look like a genuine Aspie here?
As I mentioned when I posted the video, one of my favorite parts of Temple Grandin's discussion with high school age students at The Monarch School was the moment when she said that Jim Parsons basically plays himself on The Big Bang Theory. I know some people are bothered by Dr. Grandin's tendency to identify successful people (Bill Gates, Mark Zuckerberg) as having Asperger's syndrome. I'm not.
In her book The Way I See It: A Personal Look at Autism and Asperger's, she explains that she uses the terms "Aspergers" to mean "a functional person on the autism spectrum"-- she does not see a useful distinction between people with a diagnosis of Aspergers, people like herself who have other autism but are very successful, and people like me, who have enough autism that it makes us weird and causes some problems but who are not disabled. I don't think the way she uses the word is very helpful, but she's quite upfront about what she means. And I think Dr. Grandin has done enough for the rest of us that she can be idiosyncratic in her terminology if she wants to.
So I tend to agree with her that Jim Parsons falls someplace on the spectrum. I offer the video above as evidence. Watch how the other actors are all physically connected to each other but Parsons stands alone. Watch him rock from side to side. Watch how he- completely unlike Sheldon-- often looks away from the rest of the group.
Do you agree? Or do you think Grandin and Landon are reading in too much? Please leave a comment or vote in thAutcast's Facebook's poll on the subject.
And, if you're hungry for a more substantial interview with Parsons, he did a great one recently on Canadian TV. TBBT is so popular there that they are scheduling American Idol around it this season.
Click here to watch the interview.
Submitted by Landon Bryce on Mon, 12/27/2010 - 06:29
Published in
Dr. Temple Grandin is appearing on the Autism Women's Network radio show this morning to talk with parents about helping their children reach their full potential. She also met recently with students from the Monarch School. The school posted video of their thirty minute discussion, which is available for you to watch here.
The most entertaining part is that Temple and the kids all love The Big Bang Theory and, like me, she thinks actor Jim Parsons in on the spectrum, but it's a wide-ranging discussion. The most useful part is her discussion of how she learned to regulate her emotions.
---