Parenting
Submitted by Landon Bryce on Sat, 03/26/2011 - 03:18
Blogher features two pieces from mothers of autistic children that both go beyond cliches and look at what it really means to be part of a family.
Bubbleboo examines the implications of being cured of autism, for herself and for her son:
To me, autism is an integral part of Chipmunk and I. It's inextricably inked in with everything else that makes us who we are. It is responsible for our thinking, our logic, our perception of the world around us and the people in it. It's part of our DNA. Maybe this isn't always a good thing, but the fact remains that this is how it is.
She discusses the burdens that her son's autism puts on her famly, then the things that she worries would be gone from him without it:
If Chipmunk had been born autism-free – or if there were a cure and we had taken it – I wonder what he would be like today? Would he be the gentle, placid boy that he is now – or would he be turning into a little thug like so many of the boys in his school?

He doesn't tell lies, because it wouldn't occur to him to.

He isn't deceitful, because he wouldn't know how to be.

He isn't afraid to say "I love you" – just because.
Shannon Des Roches Rosa talks about how difficult it is for both her six-year-old daughter and herself that her older autistic son simply does not want the girl around:
We don't ever leave our youngest daughter Mali alone with Leo, her ten-year-old big brother. It's not safe. Leo's intense autism may complicate his understanding in some ways, but he remembers very clearly that until he was four years old, there was no Mali and he was Mommy's baby. He has no problem showing his antipathy through yelling and pushing. Understandably, Mali is not a Leo fan, though she tends to blame Leo's autism rather than Leo himself. While I know we can keep Mali safe, I worry that these two children I love so fiercely might hate each other. And that breaks my heart.
She describes an achingly emotional tightrope walk that will be familiar to many parents:
When she's mad because her brother is unpredictable and doesn't like her and does things differently and she can't even talk to him about it because he doesn't have conversations, we get lots of "I want Leo to not have autism!" alternating with "I want Leo to go AWAY." Then we have sit-downs about how he doesn't have any problem with his hearing, so while she can be mad about what he does, it is not OK for her to make him feel bad about who he is -- and why retaliatory meanness makes Leo think that being mean is acceptable.
Submitted by Landon Bryce on Thu, 01/27/2011 - 13:18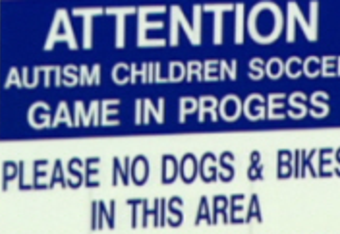 Image from Bleacher Report
True Blue, a columnist from Manchester, is also the parent of a boy with autism and a fierce desire to play soccer. This latest piece is a passionate but clear-eyed commitment to creating opportunities for kids on the spectrum:
As parents we are aware of his limitations and the fact that he could not fit into a mainstream team, we tried it and it went badly.

But all he wants to do is play football and it is so frustrating for him. As he has got older he has become more aware of his own limitations and knows that he is not yet ready for a 'normal' team coach.

In truth it wouldn't be fair on the other members of the team as my son would need specific coaching just as he receives specific teaching at his specialist school.

So, being a motivated and loving dad (and one who happens to teach) I am taking my football coaching badges, immersing myself in youth coaching at every opportunity and am working with a number of schools and charities to develop a new approach to coaching, one that is ASD friendly.
Submitted by Landon Bryce on Mon, 01/10/2011 - 02:37
Published in
Barbara Cook sings "Loving You" by Stephen Sondheim
Although I love musicals, I've never been a fan of Stephen Sondheim's Passion: it's too cerebral, too idiosyncratic in its view of human emotion to really work for me as a whole. The song "Loving You," however, is one of my favorite love songs. It is almost brutal in its simplicity, but warmly eloquent about the transformative power of love. Yesterday on the train, I was listening to this recording of Barbara Cook singing it, and I was struck by how well it describes not just romantic love, but also the love of parent for child.
Like most people with autism, and all people I know who work with them, I am in profound awe at the power of the love that parents with children on the spectrum show. This video is my tiny tribute to all parents of kids with special needs.
Thank you.
Submitted by Landon Bryce on Thu, 12/23/2010 - 05:54
"I read Jenny McCarthy cured her son of autism by cutting out milk and wheat from his diet."
YouTube user goo200 has created a couple of videos that find humor in two frustrating situations often faced by parents of kids on the spectrum. The first is unsolicited advice from a stranger who disapproves how how an autistic child acts when overstimulated. The second is a meeting with a substitute teacher who can't understand why a child with Aspergers is so defiant. You might even get some ideas about how to respond when similarly confronted.
Watch, laugh, enjoy-- consider sharing.
Click here to watch the videos.
Submitted by Landon Bryce on Tue, 11/09/2010 - 15:55
Like many people, I was touched by the piece called "My Son is Gay" that went viral on the web last week. It's about how a little boy wants to dress as Daphne from Scooby Doo for Halloween and the negative reaction some parents have. I knew there was a connection between how the writer of that piece sticks up for her son and the ways that parents of children of autism stand up for their kids every day, but I didn't know how to describe it.
Emily at A Life Less Ordinary did, though. In a lovely new entry, she compares the way mothers in the Halloween piece reject a boy for not meeting their gender expectations to the rejection her sons experience when they do not conform to expectations based on age. Especially when those expectations have to do with wearing clothes:
In the same way, I've spent what seems like a lifetime assuring people about various unpromising aspects of my sons' behaviors. That my sons won't grow up carrying baby bottles around as teens, so please stop observing that it's time for them to quit when they're three. That they won't be walking around with pacifiers at age 18, so...let's let that one go, shall we? That eventually, they'll be able to tie their shoes, ride a bike, eat with a fork, make a sandwich, and otherwise go about--at least in some reasonably recognizable way--the daily activities of life. They might not do it quite when someone thinks they should or the way it's normally done, but...why does that matter as long as it works for them?

One thing, though, that's taking awhile to address around here is the nudity factor. Some children I know who are well younger than the son in question are also well more aware of modesty. They know if the waistline of their underpants is showing or if, indeed, their entire fanny is hanging out. They're aware that one might consider closing a door when using the restroom...in a restaurant. They might, for example, be inclined to don pajamas entirely within the confines of their room, rather than sauntering out with only the top on, looking for a drink of water. They might not comment, loudly, as we enter a public building, that they think their scrotum is larger than it used to be, as they examine said body part.